Enrollment for FALL 2023 is CLOSED! Get on the waitlist for WINTER 2024
Reviews from powerful witches
★★★★★

The Way of the Witch, not exaggerating, really saved me and my relationship with my partner. It's a community that is so open and loving, and an opportunity to learn so much about the way of magic and yourself. Whether you're a baby witch or have been practicing for decades, the community and the sharing of stories is so empowering and transformative. Eternally grateful to Saged!!
★★★★★

I loved the rituals and really felt they were well thought out and perfectly timed to be honest. I cried, I laughed, had some of the best times of the last 3 months honestly. So grateful for you all.
★★★★★

Morgan told me that she has heard feedback from other witches that joining the coven has changed their life. Well, let me back that up by saying it's absolutely true. I came into this coven not even identifying as a witch. And now I have found my inner magic and am proud to call myself a witch. I have made friends for life here and that, dear ones, is one of the main ways I have transformed and grown.
★★★★★

The coven has given me the guidelines to be and practice magic. I'm a solo practitioner and I learned how to open and close a circle. I was introduced to all aspects of tools and their use. Loved journaling , making things for use in the rituals and learning rituals appropriate for the season. Loved it!
★★★★★

I literally have been struggling my whole life to figure out who I am. This one season with WOW solidified my inklings of my own magic and brought it all to the surface. I'm very grateful to Morgan for this program!
★★★★★

WOTW is perfect for new and seasoned witches alike! A great way to tap into your magic in a fun and understandable way. A great addition to your self-care practice!
3 month ritual coven
Way of the Witch is a 3 month ritual coven and magical mentorship following The Wheel of the Year. It's a safe space where you can come out of the spiritual closet, be yourself, and meet other magic-makers who will celebrate you.
Enrollment for the FALL 2023 season is CLOSED! WINTER 2023 enrollment begins December 15 and doors close January 10. From January to March, you'll practice the magic of the season and strengthen your craft with a circle of witches who will become your new best friends!
Led by Morgan Garza (witch and author of Soul Magic) and guest teachers proficient in the craft, you'll be guided through the world of witchcraft and mysticism.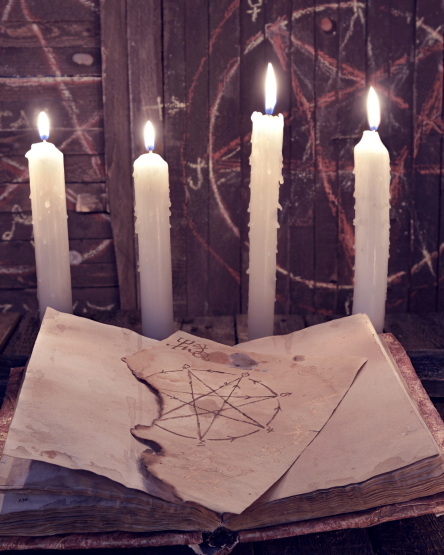 Way of the Witch Monthly
Reviews from powerful witches
★★★★★

Way of the Witch is a wonderful experience. I have missed participating in group practice as I don't have a local coven I'm with and this really helped to fulfill that need. Rituals were meaningful and it was great to have the option to perform them at a later date if I couldn't make the live, knowing that ritual space was being held for me to do so. I'm excited to see what the next quarter brings!
★★★★★

I have been looking for a community to join to expand my spiritual growth and Way of the Witch is exactly what I was searching for. I feel empowered and inspired.
★★★★★

I must say I have been blossoming since I started the coven, now that I retrospectively think about it. I am learning the craft and I am truly enjoying it. Being a healer I now can incorporate some spell jar for some of my patients and clients.
★★★★★

I'm very new in my journey and this coven has helped me to explore my path.  I look forward to growing in my craft with this community.
★★★★★

Morgan ... seriously what can I say. Your rituals are so real and are amazing at keeping me grounded and focused on positive energy. Thank you!
★★★★★

Participating in the Way of the Witch has been so inspirational for me. It's really changed not only my practice, but so much about my life.
★★★★★

I have become more confident and I am blossoming, I could not recommend enough that experience to everyone. I am so much more in tune and aware of the gifts around.
My practice has become a practice infused with more magic than ever.
That's ok! You'll receive the recording and course materials immediately after class. 
Way of the Witch is a 3 month commitment starting on October 4 @ 6pm pst // 9pm est. We will meet LIVE every other Wednesday. 
10/4 @ 6pm pst // 9pm est - opening ceremony
10/15 @ 5pm pst // 8pm est - Community Coven
10/18 @ 6pm pst // 9pm est
11/1 @ 6pm pst // 9pm est
11/12 @ 5pm pst // 8pm est - Community Coven
11/15 @ 6pm pst // 9pm est
11/29 @ 6pm pst // 9pm est
12/13 @ 6pm pst // 9pm est
12/17 @ 5pm pst // 8pm est - Community Coven
12/27 @ 6pm pst // 9pm est - closing ceremony
Way of the Witch is a 3 month commitment. You can pay in full for the 3 months or choose the payment plan for $111/mo. You can cancel at the end of the 3 months or choose to carry on to the next season.
Way of the Witch is open to ALL humans with a beating heart and an interest in deepening their magic through witchcraft and mysticism. No prior experience necessary, but it is helpful to have a general grasp of astrology and magic.
We open and close enrollment at the start of each season, following The Wheel of the Year. To maintain a safe container and a progression of magic through each of the the 4 seasons, we require a 3 month commitment. Your magical practice will benefit from this devotion!
Rituals will include shadow work, candle magic, love spells, altars, divination, elemental spells, crystals, herbalism, and astrology and moon magic.
Supplies will be minimal and focused on what you likely already have at home.
Not at all! During live coven meetings, cameras are optional. You can still perform the ritual without being viewed by the other coven members. The Telegram group is a safe space to connect with other members and participate as much as you like. Way of the Witch is filled with introverts and we ensure a safe and comfortable environment for all.
No! We are witches all of different beliefs, backgrounds, and practices. There is no High Priestess, levels, or official leader. Morgan is here to guide you through rituals, but all witches are invited to participate and lead different parts of the ritual.