Money Magic Ritual Box
moon circles, daily rituals, spells, and more!
JOIN SAGED PREMIUM
Start changing your inner and outer worlds, one ritual at a time. With over 1 MILLION downloads, Saged is where technology and spirituality converge. about saged
Founded on 11/11/18 by Julia Munck, Saged is a wellness app and spiritual community to help you manifest your best life!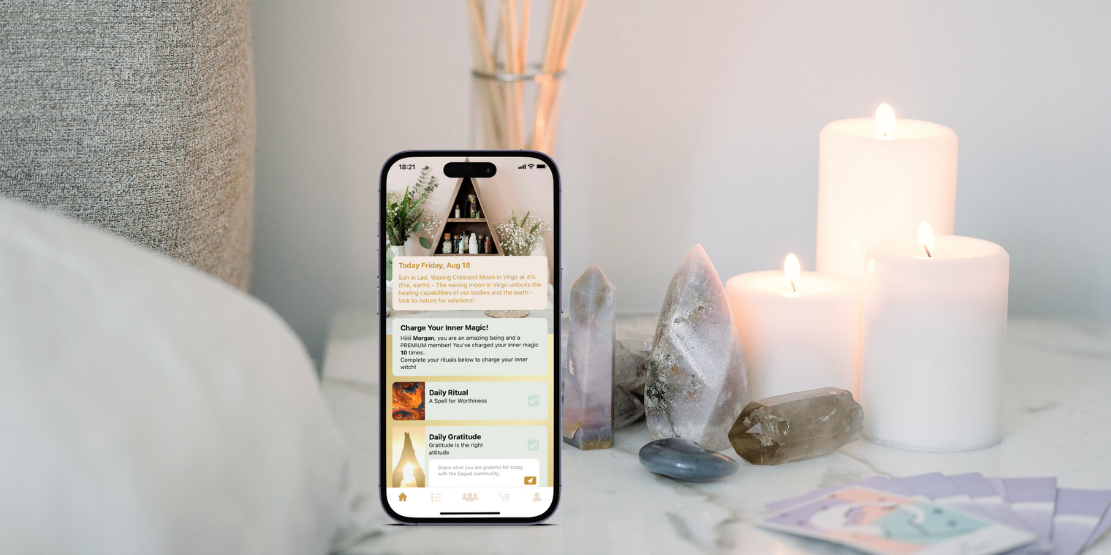 wake your witch
GET A COMPLETE RITUAL IN A BOX
Saged Ritual Boxes are bursting with magic! You'll receive spiritual tools to perform a complete ritual and to keep on your altar for many moons to come.
Each box is valued at over $200, but priced at just $77! And if you subscribe, you can save $11/mo and cancel anytime.
PLUS each box contains a PDF and LIVE ritual and meditation to guide you through creating your own magic.
Explore all boxes!
With over 5,000 reviews, Saged is something magical
★★★★★

Finding Saged Help Me Change My Life

I had been raised in strict religious households that really put me off religion entirely.

Saged was an important stepping stone that put me on a path to greater healing. And I will always be deeply grateful to Julia and the Saged community.

KC
★★★★★

Saged - a magical boost

I love the SagedApp! I got the upgrade. Every time I need a magical boost or a self-care boost I can open up my Saged app and there's always something there to make my day a little better, sometimes a lot better! I highly recommend!

Cindy G.
★★★★★

A new beginning for me

I wasn't really looking for Saged, Saged found me. I just recently started collecting crystals and gaining knowledge about chakras and how to meditate. Still new to it all though.

Julia the founder has blessed me in a way that no longer me has done before.

mzyaya72
★★★★★

Wonderful App - love it!

This has been perfect for me to get me I to a daily practice. It's easy and convenient. I follow their daily ritual, share my daily gratitude, and do the bite size meditation. They offer lots of wonderful classes video and live and you feel part of a big community! 

Dancingbirdie
★★★★★

In love with this app & community!!!!

It's sooo refreshing to finally find so many like minded people in one little place!! It's quite amazing Bc in my "real" everyday life (in person) I don't have any spiritual friends who share the same interests so I'm in love with this app & the community that comes w/ it.

Shelby.Sweetheart
practical magic for witches and mystics
download the free saged app
Over 500,000 global downloads and 5,000+ 5-star reviews
Magic thrives with consistency, and we deliver both right to your phone.
download the free app